Hi everyone!
I'm doing this thing with the Island Girl, which is called blog hop. You basically need to go to her blog at www.nycislandgal.com, copy the button code, place it on your blog and write few things that people do not know about you yet. Then, also at her page you have to enter the blog hop. Just follow the directions! And have fun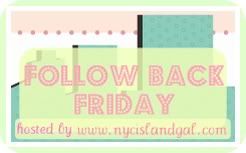 Now few things about me:
1. I was 13 when my brother was born and babysitting him was my first job. Lol.
2. My boyfriend is 6 months younger than me and yet he graduated college 2 years ago and has a grown up job.
3. I secretely love to cook, but can't stand other people in the kitchen while I'm cooking.
4. I love to read! If it was possible I would read all day, every day!
5. I'm scared of mice very badly, and didn't take a teachers assistant job that was offered to me because I knew he had lab full of lab rats!!! Scary stuff, I'm telling you:(
6. I love my patients at work! I think because of them I'm having such a hard time quiting that job.
7. I collect fashion magazines ( the ones that bring inspiration to life).
8. I love flying!
9. People that make noices with their mouth when they eat annoy me. I don't know why, they just do.
10. Blogging is my escape to relax:)